And just like that, another year gone.
Coming off the initial impact of the pandemic and into what I thought was going to be the start of a "recovery" period ended up being one of the most difficult times in my life. It's been a wild time. Lots happened that I wasn't expecting. I moved out, started a new job, dealt with a lot of difficult emotions, among the usual day-to-day life happenings.
I wish I had some kind of lesson I could be leaving this year with but to be honest there is still a lack of resolution that is keeping that from happening. The reality is that I will be coming into 2023 with the mindset of what feels truly like an adult and leaving whatever version of me was there before behind. It's strange to be honest. Feeling like I am really starting to get older. Not in the "man I'm so old" sort of way, but more of the "I have so many more things I have to be responsible for" sort of way. I think my brain is just trying to get on with things while there's another part of me that is still having a hard time letting go. Either way, life goes on.
Even with the strangeness of all that, I still have so so many people to thank for the good that's happened throughout all last year. Starting off, I got to meet a ton of cool folks in Denver, CO, along with finally getting to stay with a ton of long time pals. Poptaffy made a really freaking sweet piece of art to commemorate it here, but here it is if you're lazy: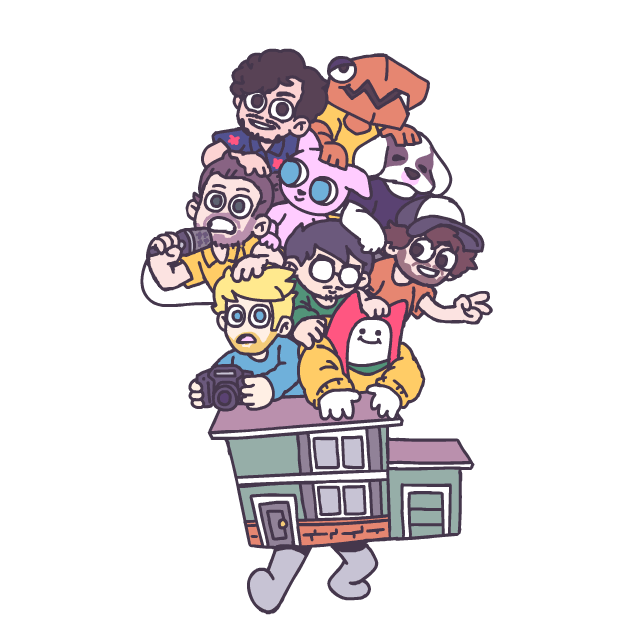 The whole event even inspired me to write a song that you can listen to here.
After that, I got the chance to go up to New York and meet up with Taterman, Ninjamuffin, PlayBlast, and their roommates. We skulked around downtown and did a whole lot of walking along with getting to see the battleship that was sinking in the lake. From what I know they've since fixed it and all is right with the world. Amen.
Soon after, it was up to Toronto where I again got to see Taterman, Ninjamuffin, and PlayBlast, along with a whole cast of whacky fun NG folks for the Toronto 2022 Meet. Luis and I stayed at a hostel with was pretty freaking rad and we also did a lot of walking and subway riding. It was awesome finally getting to meet him irl and let me tell you he is a blast to be around. I had a great time chatting and hearing about all the other meets he's been to, along with some forbidden Newgrounds knowledge I cannot share, lest Tom boots me from the website. There was a lot of drinking to be done and many a bar to be kicked out of that Cam did a great job recounting here. All in all, I am very thankful for all the folks I got to meet there and I so badly want to get back to Toronto ASAP. Miss u Canadians </3
The rest of the year was a bit slow but eventually I got to meet back up with Poptaffy. We had a cool little roadtrip and now he won't leave my house. It's been two months and he insists on eating my food, drinking my wine, and even bought some furniture. When I told him "Make yourself at home" I didn't think he would take it so literally. I will continue playing along for now, but I cannot help but feel that my life may be in danger. Perhaps there is a plot I am wholly unaware of that is unfolding in the background. Perhaps I am overthinking. In either case, further observation is required.
And lest I forget, the music of the year.
Despite my lack of production and releases, I do think this was one of the more important years for me in terms of music. Yes, I have not really released much, but what I did release I wholeheartedly think is some of the best work I have ever done. Not because it's going to be winning me any awards any time soon, but because I was able to channel a lot into what I created. A lot of the music I created this year was full of very raw and real emotions that I don't think I am able to revisit even if I wanted to. Not without the right catalyst anyways. It all culminated in me releasing my first full length album BURY, of which I am incredibly proud. The fact that it has resonated on some level with so many people means the world to me. As many of you who were in Toronto or Denver know, I am insanely passionate about music and art and the work that goes into it. I won't share all my thoughts on that here, but if you were unfortunate enough to be around me once I got started talking about it all then you know what I'm talking about. Maybe one of these days I'll do a write up on it. Maybe not.
Anyways I feel like I've said too much so I'll end it here. Much love to all the amazing and talented folks I've gotten to meet this year. Much love to all the folks who have decided to give me a follow too. I've never seen myself as particularly remarkable, but if what I am doing has brought any sort of meaning to your life then I am more than happy to keep doing it. The fact any of you even care enough to follow what I do means the absolute world to me and every day I am thankful for the position I have found myself in.
So friends, family, followers, thank you all so so much for your support and love. Younger me would be losing his head right now if he could know where things were headed. Older me can't find the words to describe just how much I appreciate everything. I hope to keep the ball going and to keep making more for you all, so stick around if you'd like.
See you all in 2023!
-Droid